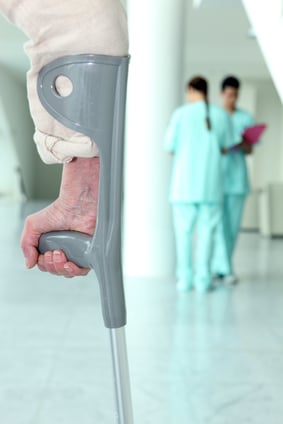 Connectivity is important in a hospital setting, both the interaction of patients to nurses and doctors and vice versa; a centralized communication system implemented within the hospital for all employees and staff.
This is called an integrated helath IT solution. The program has been developed to merge all necessary information, patient records, documents, medical reports and other data within a hospital setting, so that relevant data can be easily accessed. Today, the person responsible for this information is not the nurse; instead it's the information technologist who has the most important function in this area of the hospital.

It's no secret that the digital era has been spearheading new innovative discoveries in health care. It's invaded every medical department including imaging, diagnostics and surgery. Yet, despite all this new technology, it can't be denied that there are still solutions to be found. Take for example the many documents containing patient records and other papers relevant to a hospitals' operations. This may seem a very minor point, however, a patient's records and results affects every medical decision made!

Using an integrated program to accommodate the registration of patients and recording all significant information in relation to their current health condition and storing it in a database that is readily accessed for future use overcomes this problem. This method enables hospitals to lessen the paper work for an individual patient. Furthermore, this will help the medical facility save time retrieving pertinent files of former patients returning for a follow up consultation.

These things aren't possible without the expertise of the IT personnel developing new systems that enable the medical facultyto transcend to a higher level and improvetheir overall services. Furthermore, these IT personnel are able to orchestrate a fully operational centralized database in real-time.

This technology is able to address and tackle the most complex and critical elements in health care delivery. This decreases the waiting time of the patient and lessens errors. In addition, it helps information sharingto enhance the collaborative work of the clinical staff and also aids physicians in making the correct clinical diagnosis.

There are many advantages and reasons to integrate the hospital computer systems, one of which is to improve the reputation and reliability of the hospital. One of the most noticeable benefits is the accuracy of the information gathered from clients in the hospital. Customers are more satisfied with the services provided because they're fast paced and accurate, thereby reducing their length of stay. Furthermore, there's often a more rapid transfer to outpatient facilities due to the new integrated solutions, resulting in a reduction of emergency room visits. All these benefits have a financial effect on the hospital as well; the hospital increases its productivity, resulting in a significant increase in annual revenue.

Services available within hospitals today are of international standard. However, the influence of ever-evolving technology has opened up new possibilities and hospitals are taking advantage of them. The integrated hospital solution is just one of these possibilities and it's yielding very satisfactory results, both for the patient and medical staff. More medical institutions are implementing and using an integrated hospital solution to improve their health care delivery.


To further understand how an integrated hospital solution can help your medical facility, please visit the link below.